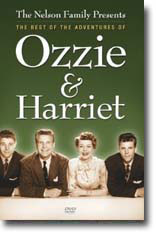 The Adventures of Ozzie and Harriet: The title alone is amusingly absurd. Unless your idea of adventure includes picnics, hay rides, recreational horseback riding, and square dances, the word hardly applies. Bandleader Ozzie, singer Harriet (nee Hilliard), and sons David and Ricky had already been on the radio for several years before the television show appeared; there had also been a feature film, Here Come the Nelsons (with Rock Hudson).
The TV series, likely the only one ever to feature an entire family portraying themselves, continued where the radio show had left off, with Ozzie (who directed, produced, and co-wrote the vast majority of the episodes) as the well-meaning but sometimes confused, bumbling patriarch, Harriet his sensible but gentle foil, David the dutiful, self-effacing older son, and Ricky the mischievous youngster.
Things naturally changed over the next decade and a half, as the boys grew up, went to college, and got married, but the dynamic remained essentially the same. Ozzie and Harriet was nothing if not wholesome. The parents were decent, honest folks; never dictatorial or authoritarian, they guided their sons but gave them enough space to make their own decisions, and David and Ricky were as clean-cut as they come.
Of course, there was also Ricky's emergence as a singing star. Broadcast in 1957, "Ricky, the Drummer" was his musical debut (he sings and plays the skins with surprising skill), and the boxed set does a decent job of charting his growth from a somewhat wooden 16-year-old into a legitimate musician with a great band (featuring James Burton on guitar) and undeniable charisma; Rick Nelson was no Elvis Presley, but he had far more substance than other teen idols of the era.
Fourteen years is a long run for any TV show (only The Simpsons has surpassed it in the sitcom category), and by the time The Adventures of Ozzie and Harriet started airing episodes in color in the '65-66 season, it had run out steam.
Still, this is a classic bit of Americana that will find favor with old and new viewers alike. Bonus features include commentary on four episodes by David (the only living member from the original show) and Sam (son of Rick) Nelson, along with a 1949 radio broadcast, home movies, and more.

Character to watch: Ozzie Nelson as himself.
Journal your answers to the following questions after you watch the series.
How does this particular character's journey compare with yours?
Did the character develop certain characteristics during the movie that you have or that you would like to have? If so, what are those characteristics?
What obstacles did this character face? What was his or her biggest challenge?
What would you have done differently if you had been in the same position as the character?
Is this character the type of person you would be friends with? Why or why not?