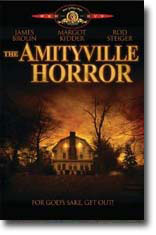 This movie uses a staple of effective scares: based on "true events." Whether or not you believe the Lutz family's account of what happened in the Long Island manse, it's hard not to jump at the bumps in the night after seeing this movie. The lesson here: Never move into a house where a murder occurred, which of course seems like common sense.
Based on a bestselling, allegedly nonfiction book about haunted goings-on in a Long Island house The Amityville Horror Conspiracy, this rather cheesy horror movie is more silly than unsettling.
James Brolin and Margot Kidder star as newlyweds who move into the empty home and are gradually affected by the legacy of a murder committed on the premises. Rod Steiger is a priest who can tell what's up and gets dispatched in a rather ugly way.
One of the most talked-about haunted-house stories of all time, The Amityville Horror hits you where you live and you may never look at your home the same way again. In the movie, the Lutz colonial home on the river's edge seemed ideal: quaint, spacious and amazingly affordable.
Of course, six brutal murders had taken place there just a year before, but houses don't have memories…or do they? Soon the Lutz dream house becomes a hellish nightmare, as walls begin to drip blood and satanic forces threaten to destroy them. The Lutzes try to escape or forfeit their lives and their souls.
Director:  Stuart Rosenberg
Year of Release: 1979

Character to watch: James Brolin as George Lutz.
Journal your answers to the following questions after you watch the movie.
How does this particular character's journey compare with yours?
Did the character develop certain characteristics during the movie that you have or that you would like to have? If so, what are those characteristics?
What obstacles did this character face? What was his or her biggest challenge?
What would you have done differently if you had been in the same position as the character?
Is this character the type of person you would be friends with? Why or why not?