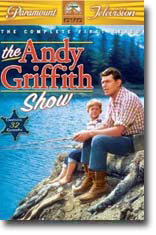 Since its network debut in 1960,
The Andy Griffith Show
has been a viewer favorite thanks to its folksy, nostalgic charm and memorable cast, both of which shine in this set featuring the series' debut season.
Originally spun off from an episode of Make Room for Daddy (both series shared producers Sheldon Leonard and Danny Thomas), The Andy Griffith Show centered around the lives of small-town sheriff Andy Taylor (the marvelously dry Griffith), his son Opie (Ron Howard), cousin and deputy Barney Fife (multiple Emmy winner Don Knotts), and the other gentle eccentrics of Mayberry (which was based on Griffith's real hometown).
But while other "rural" programs poked fun at its characters (The Real McCoys, The Beverly Hillbillies), The Andy Griffith Show never stooped to stereotypes, preferring instead to draw its humor from the fine writing and cast, which counted Frances Bavier as Aunt Bee, Howard McNear as Floyd the Barber, and Hal Campbell as Mayberry's benevolent drunk, Otis, among the first season ensemble. All 32 episodes (including the epilogues, which are rarely aired in syndication) are compiled on this four-disc set, which regrettably lacks any supplemental features.
The Andy Griffith Show is loved from coast to coast, but it's especially important to a fellow like me who has spent all of his life in the great state of North Carolina. Just about everybody under the age of 50 has grown up with Andy, Barney, Aunt Bee, Opie, Floyd, Otis, and the whole Mayberry gang. And, no matter how many times I see a particular episode, I never get tired of watching it. I've seen the 32 shows from Season One more times than I can remember, but watching them again on these DVDs was even better than seeing them for the first time on television. As time goes by, this show actually grows in importance.
Maybe a criminal wanders into town once every blue moon, but old reliable Barney Fife is always there to nip criminal activity in the bud (and Andy is there to see that Barney succeeds despite himself). About the worst thing that ever happens in Mayberry is Aunt Bee deciding to make a run of pickles. This is truly the life, and The Andy Griffith Show The Complete First Season lands a spot smack dab on top of my stack of favorite DVDs.

Character to watch: Andy Griffith as himself.
Journal your answers to the following questions after you watch the series.
How does this particular character's journey compare with yours?
Did the character develop certain characteristics during the movie that you have or that you would like to have? If so, what are those characteristics?
What obstacles did this character face? What was his or her biggest challenge?
What would you have done differently if you had been in the same position as the character?
Is this character the type of person you would be friends with? Why or why not?