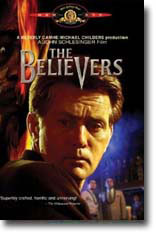 John Schlesinger's The Believers, a kind of voodoo twist on Rosemary's Baby, is a horror movie where the echoes of otherworldly menace set the tone of terror, but the real evil comes from the hearts of humans. Recently widowed psychologist Martin Sheen moves to New York with his emotionally fragile son, and they become entwined in an underground cult that practices ritual sacrifice of children.
Schlesinger is more interested in the human tale of loss and healing and the desperation of a grieving father fighting to protect his only child from a barbarous cabal. He favors mood and menace over spectacular splashes of horror, and even those moments of occult attack are directed with a sly sense of ambiguity. Though overlong and short on moments of genuine terror, this is a rare horror movie grounded in the palpable and powerful emotions of its characters.
After the death of his wife, police psychiatrist Cal Jamison moves to New York. There he has to help in the investigation of the murder of two youths, who seem to have been immolated during a cult ritual. Jamison believes it's been Voodoo and, ignoring the warnings of his housekeeper, enters the scenery and soon gets under their influence. They try to get him to sacrifice his own son.
Scary, good thriller about a dangerous faction of Santeria, a Latin-American based religion which believes in animal sacrifice, which here is offering children as sacrifices in New York. Martin Sheen is very good as a police psychologist who moves to New York with his son after his wife's bizarre death, and must deal with the very strange doings occurring around him.
Director: John Schlesinger
Year of Release: 1987

Character to watch: Martin Sheen as Cal Jamison.
Journal your answers to the following questions after you watch the movie.
How does this particular character's journey compare with yours?
Did the character develop certain characteristics during the movie that you have or that you would like to have? If so, what are those characteristics?
What obstacles did this character face? What was his or her biggest challenge?
What would you have done differently if you had been in the same position as the character?
Is this character the type of person you would be friends with? Why or why not?