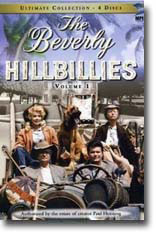 From the creative genius of TV pioneer Paul Henning (The George Burns & Gracie Allen Show, Love That Bob, Petticoat Junction), comes the story of poor Ozark mountaineer Jed Clampett and his kin, striking it rich with oil and headin' for Beverly Hills, California. Join the feistiest Granny of them all, wise Uncle Jed, his critter-loving daughter Elly May and love-crazy Cousin Jethro in their unrefined, legendary quest for an idyllic West Coast existence.
Welllll, Doggies! This astounding Ultimate Collection, with rare footage culled from creator Paul Henning's private archive, features 26 newly-restored and unedited episodes with the classic opening and closing theme songs (The Ballad Of Jed Clampett), the complete and never-before-broadcast pilot (The Hillbillies Of Beverly Hills), rare cast commercials, interviews and a heapin' helpin' of behind the scenes footage.
The Beverly Hillbillies Ultimate Collection Volume 1 is a wonderful set of the first 26 episodes of this wonderful, classic and still as funny as heck TV show that premiered in 1962 on the CBS TV network and has been beloved by many people ever since then. It has also been rerun many times in syndication over the years and as a result of that, many new fans became part of this very unique pop culture phenomenon known as The Beverly Hillbillies.
It was in reruns during the 1970's when I was a boy when I discovered this show and I fell in love with it when I saw the very first episode that won me over to the show, which is first season episode number 24, which is Jed Becomes A Banker. Since then, I had fallen in love with this classic TV show from the once proud golden era of TV. This show still stands the test of time after all of these years and it is still as funny.

Character to watch: Buddy Ebsen as Jed Clampett.
Journal your answers to the following questions after you watch the series.
How does this particular character's journey compare with yours?
Did the character develop certain characteristics during the movie that you have or that you would like to have? If so, what are those characteristics?
What obstacles did this character face? What was his or her biggest challenge?
What would you have done differently if you had been in the same position as the character?
Is this character the type of person you would be friends with? Why or why not?