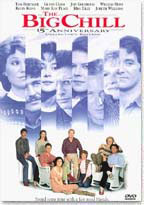 Harold Cooper (Kevin Kline) is bathing his young son when his doctor/wife, Sarah (Glenn Close), receives a phone call at their Richmond home telling her that their friend, Alex, has committed suicide by slashing his wrists in the bathtub of their guest house in South Carolina.At the funeral Harold and Sarah are reunited with college friends from the University of Michigan in the 1960s.
They include Sam (Tom Berenger), a famous television actor now living in Los Angeles; Meg (Mary Kay Place), an unhappy chain smoking former public defender who is now a real estate attorney in Atlanta, who wants a child; Michael (Jeff Goldblum), a sex-obsessed People journalist; Nick (William Hurt), a Vietnam veteran and former radio host who suffers from impotence; Karen (JoBeth Williams), a housewife from suburban Detroit who's unhappy in her marriage to her advertising executive husband, Richard (Don Galloway), an outsider.
Also present is Chloe (Meg Tilly), Alex's much-younger girlfriend at the time of his suicide.Everyone goes from the cemetery to Harold and Sarah's house, where they are invited to stay for the weekend. During the first night there, a bat flies into the attic while Meg and Nick are getting reacquainted. Sam later finds Nick watching television and they briefly talk about Karen. The two then go into the kitchen and find Richard, her husband, making a sandwich, and the three make small talk which turns into a discussion about responsibility and adulthood.
he Coopers seem to be the strongest, happily married and prosperous but also generous and caring. Nick (William Hurt) is a confused and self-absorbed veteran (in some respects a survivor) of the Viet Nam war. The group includes one celebrity, Sam (Tom Berenger) who stars in a television series. Karen has always been in love with Sam.
Now a somewhat unhappily married woman, she struggles with her conflict of emotions (obligations to husband and children juxtaposed with her enduring attraction to Sam). Mary Kay Place is a successful attorney who yearns for parenthood but not necessarily marriage.
For me, the most interesting character is Michael (Jeff Goldblum) who comes across as a smarmy, almost desperate social misfit. Although claiming to be secure as a journalist with People magazine, he is obviously desperate to be accepted, to make favorable impressions, and if nothing else, taken seriously. His vulnerabilities are almost palpable.
Director: Lawrence Kasdan
Year of Release: 1983

Character to watch: Kevin Kline as Harold Cooper.
Journal your answers to the following questions after you watch the movie.
How does this particular character's journey compare with yours?
Did the character develop certain characteristics during the movie that you have or that you would like to have? If so, what are those characteristics?
What obstacles did this character face? What was his or her biggest challenge?
What would you have done differently if you had been in the same position as the character?
Is this character the type of person you would be friends with? Why or why not?