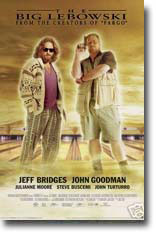 When "The Dude" Lebowski (Jeff Bridges) is mistaken for a millionaire Lebowski, two thugs urinate on his rug to coerce him into paying a debt he knows nothing about. While attempting to gain recompense for the ruined rug from his wealthy counterpart, he accepts a one-time job with high pay-off.
He enlists the help of his bowling buddy, Walter (John Goodman), a gun-toting Jewish-convert with anger issues. Deception leads to more trouble, and it soon seems that everyone from porn empire tycoons to nihilists want something from The Dude.
After the tight plotting and quirky intensity of Fargo, this casually amusing follow-up from the prolifically inventive Coen (Ethan and Joel) brothers seems like a bit of a lark, and the result was a box-office disappointment. The good news is, The Big Lebowski is every bit a Coen movie, and its lazy plot is part of its laidback charm. After all, how many movies can claim as their hero a pot-bellied, pot-smoking loser named The Dude (Bridges) who spends most of his time bowling and getting stoned?
Where else could you find a hairnetted Latino bowler named Jesus (John Turturro) who sports dazzling purple footgear, or an erotic artist (Julianne Moore) whose creativity consists of covering her naked body in paint, flying through the air in a leather harness, and splatting herself against a giant canvas? Who else but the Coens would think of showing you a camera view from inside the holes of a bowling ball, or an elaborate Busby Berkely-styled musical dream sequence involving a Viking goddess and giant bowling pins?
The plot–which finds Lebowski involved in a kidnapping scheme after he's mistaken for a rich guy with the same name–is almost beside the point. What counts here is a steady cascade of hilarious dialogue, great work from Coen regulars John Goodman and Steve Buscemi, and the kind of cinematic ingenuity that puts the Coens in a class all their own. Be sure to watch with snacks in hand, because The Big Lebowski might give you a giddy case of the munchies.
Directors: Joel Coen, Ethan Coen
Year of Release: 1998

Character to watch: Jeff Bridges as Jeffrey Lebowski – The Dude.
Journal your answers to the following questions after you watch the movie.
How does this particular character's journey compare with yours?
Did the character develop certain characteristics during the movie that you have or that you would like to have? If so, what are those characteristics?
What obstacles did this character face? What was his or her biggest challenge?
What would you have done differently if you had been in the same position as the character?
Is this character the type of person you would be friends with? Why or why not?