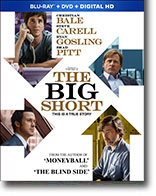 Based on the book by Michael Lewis, The Big Short educates, thrills, and angers. You may even find yourself laughing every now and then – when you're not clenching teeth at the unscrupulous Wall Street bankers unleashed on the American people. I learned a new word in this movie: "banksters."
What's fascinating is that McKay's film is, for the most part, about the very people who exploited the crashing housing market for their own personal gain. It's about the people we should be rooting for to fail, and yet their actions are only a small part of the problem. It's the system that we hate, not the individuals taking advantage of it.
To help accomplish this, McKay creates a surreal, fast-paced world with big, bold and weird characters, including one, Ryan Gosling's morally dubious Wall Street trader Jared Vennett, who speaks directly to us Wolf of Wall Street-style.
Michael Burry, the antisocial hedge fund manager who figured out long before the 2008 financial crash that banks were flooding the market with dangerous subprime mortgages. He used that information to bet in his own favor, basically betting on the market to fail when nobody could predict that ever happening. This was unheard of.
To put it simply, Burry was hoping to cash in on an event that would devastate the lives of millions. Sounds awful, right? Do we hate Burry for it? Not really. There are other characters that respond to Burry's actions in different ways; Finn Wittrock and John Magaro play "garage band" traders looking to cash-in with the big boys, so they turn to an ex-Wall Street insider (a shaggy Brad Pitt) to help them do it.
The cast is a great mix of unknown actors as well as well-known ones. Christian Bale is amazing once again, playing a socially awkward investment manager that trusts his math over other peoples' advice. Ryan Gosling plays another version of most of his characters, but he's good at it, so that's fine. And Steve Carell continues to show that he is not just a great comedian, but one of the best actors today.
Director: Adam McKay
Year of Release: 2015