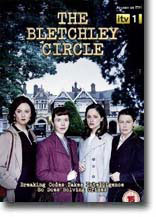 In 1952, four women who worked at the wartime code-breaking center, Bletchley Park, reunite to track down a serial killer. During WWII, men and women working at Bletchley Park played a vital role, breaking the codes used by the German military.Nine years later, former codebreaker Susan (Anna Maxwell Martin) is a housewife and mother, but she continues to recognize patterns that surround her in everyday life. When a series of women are brutally murdered around London, Susan sees a pattern emerging.
When a police-search for what Susan believes to be an overlooked victim turns up nothing, she realizes she cannot solve this puzzle alone. Enlisting three former Bletchley Park colleagues: Millie (Rachael Stirling), Lucy (Sophie Rundle), and Jean (Julie Graham); Susan knows they have little time to break this code before the killer strikes again.
Some of the most intelligent British women during WWII were brought to Bletchley as code breakers. They helped win the war. At that time it was a secret, hidden operation, and remained a national secret for decades afterward. This dramatic series revealed some of the history and aftermath. In the early 1950s Bletchley gals have moved on to marriage and children. However, the stellar code breaking abilities are yet keen in the minds of these women. That can't be forgotten so easily. And now, they operate independently, without protection of the British forces.

Character to watch: Anna Maxwell Martin as Susan.
Journal your answers to the following questions after you watch the series.
How does this particular character's journey compare with yours?
Did the character develop certain characteristics during the movie that you have or that you would like to have? If so, what are those characteristics?
What obstacles did this character face? What was his or her biggest challenge?
What would you have done differently if you had been in the same position as the character?
Is this character the type of person you would be friends with? Why or why not?