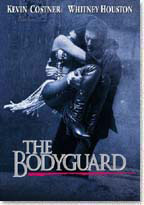 Rachel Marron (Whitney Houston) is an Oscar-nominated music superstar who is being stalked and sent death threats. Frank Farmer (Kevin Costner) is a former Secret Service Special Agent who served as part of the presidential protection detail during the presidencies of Jimmy Carter and Ronald Reagan.
Frank is haunted by the fact that he was not there when Reagan was shot because he was off duty at the time.Frank has bcome a highly successful private and professional bodyguard who protects corporate VIPs. He is hired by Rachel's manager, Bill Devaney (Bill Cobbs), to protect her after she receives a number of threats against her life and a small bomb detonates in her dressing room.
The film follows Rachel's singing career and family life. Frank is unsure about accepting the job because he sees Rachel as a spoiled diva who is oblivious to the threats against her life. Rachel's handlers had kept the bomb in the dressing room secret from her. At first, Rachel looks upon Frank as paranoid and his protection techniques intrusive.
Rachel's existing bodyguard Tony (Mike Starr) resents Frank's presence. But at a concert where Rachel is performing there is a riot and Frank successfully protects her from danger; as a result of his protection, Rachel falls in love with Frank.
Frank initially tries to keep the relationship professional, but the two sleep together. However, recognizing that their relationship may compromise his protection of her, Frank breaks off their affair. Hurt, Rachel begins to push Frank's buttons by violating their security routines and attempting to sleep with his former Secret Service co-worker, Greg Portman (Tomas Arana).
After she has personal contact with her stalker via a creepy phone call, Rachel realizes that she must put her trust in Frank ahead of her own desire for success. She finally recognizes the seriousness of the situation and cancels the rest of her tour.
Director: Mick Jackson
Year of Release: 1992

Character to watch: Kevin Costner as Frank Farmer.
Journal your answers to the following questions after you watch the movie.
How does this particular character's journey compare with yours?
Did the character develop certain characteristics during the movie that you have or that you would like to have? If so, what are those characteristics?
What obstacles did this character face? What was his or her biggest challenge?
What would you have done differently if you had been in the same position as the character?
Is this character the type of person you would be friends with? Why or why not?