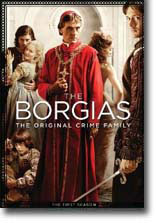 The Borgias is a complex, unvarnished portrait of one of history's most intriguing families. Jeremy Irons stars as Rodrigo Borgia, the cunning, manipulative patriarch of the Borgia family who ascends to the highest circles of power within Renaissance-era Italy.
The series begins as Rodrigo (Irons), becomes Pope Alexander VI, propelling him, his two Machiavellian sons Cesare (François Arnaud) and Juan (David Oakes), and his scandalously beautiful daughter, Lucrezia (Holliday Grainger), to become the most powerful and influential family of the Italian Renaissance.
Following the Borgia family as they rise to power in the Roman Catholic church. Rodrigo Borgia uses bribery, with the help of his sonz, to secure his position as Pope Alexander VI. But he has gained enemies in the College of Cardinals, who begin to plot against him. He must find alliances.
In every regard, The Borgias is a terrific technical production. The sets, costumes, and period details all look great. The action sequences, especially when it comes to the battlefield, are tense and brutal–with superb effects. The screenplays are smart–allowing a slow build tension and actual character development that heightens the impending drama.
It's great to have Irons back in a prominent leading role as he seems to have been wallowing in cheesy supporting turns for quite some time. Arnaud has a quiet intensity as, perhaps, the show's most intriguing and complex character. Grainger has a subtlety that gets under your skin–before you know what happened, she has transformed into a sly power player. But the cast is uniformly excellent with even smaller roles well delineated.

Character to watch: Jeremy Irons stars as Rodrigo Borgia.
Journal your answers to the following questions after you watch the series.
How does this particular character's journey compare with yours?
Did the character develop certain characteristics during the movie that you have or that you would like to have? If so, what are those characteristics?
What obstacles did this character face? What was his or her biggest challenge?
What would you have done differently if you had been in the same position as the character?
Is this character the type of person you would be friends with? Why or why not?