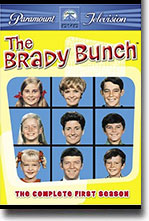 The marriage of architect Mike Brady (Robert Reed) and homemaker Carol Martin née Tyler (Florence Henderson) will be the second for both. They have the issue of blending their two already large families, Mike who has three children and Carol who has three children.
One additional issue is that the Brady household was testosterone laden with Mike's children being three boys – Greg (Barry Williams), Peter (Christopher Knight) and Bobby (Mike Lookinland) – and the Martin household was estrogen laden with Carol's children being three girls – Marcia (Maureen McCormick), Jan (Eve Plumb) and Cindy (Susan Olsen).
The six children not only have their usual issues in growing from children to teenagers, and in this situation in getting used to a new parent and new siblings, but also interacting with new siblings whose mentality generally reflects their specific gender, which more often than not is totally foreign to them. Mike and Carol also have the new roles of parent to daughters and sons respectively. Add to the mix the girls' cat Fluffy, the boys' dog Tiger, and Mike's longtime housekeeper Alice (Ann B. Davis), and the collective new Brady.
The Brady Bunch ran on ABC-TV from 1969 to 1974. It is one of the most well-remembered shows of the early 70s, its popularity having grown with the years. One of the last traditional house-bound comedies, it dealt with the adventures of the parents and children of a blended family. Though the series wasn't a notable critical or ratings success during its initial run, it became enormously popular in syndication.
The idea for The Brady Bunch started back in 1966 when Sherwood Schwartz learned that between 20 to 30 % of all families had at least one child from a previous marriage. He wrote a 30-minute pilot episode and shopped it around to the three networks at the time: ABC, CBS, and NBC.
Because the networks wanted to make significant changes to Schwartz' concept, he backed off. In 1968, the movie "Yours, Mine and Ours" came out. It starred Henry Fonda and Lucille Ball as parents of children from previous marriages who wed and have a baby of their own. At this point, ABC picked up the show for broadcast.

Character to watch: Florence Henderson as Carol Brady.
Journal your answers to the following questions after you watch the series.
How does this particular character's journey compare with yours?
Did the character develop certain characteristics during the movie that you have or that you would like to have? If so, what are those characteristics?
What obstacles did this character face? What was his or her biggest challenge?
What would you have done differently if you had been in the same position as the character?
Is this character the type of person you would be friends with? Why or why not?