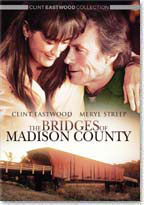 The Bridges of Madison County is based on the best-selling novel of the same name by Robert James Waller. In movie starts in present time with siblings Michael (Victor Slezak) and Carolyn (Annie Corley) Johnson arrive at the Iowa farmhouse of their recently-deceased mother, Francesca Johnson.
As they go through the contents of her safe deposit box and the will, they are surprised to find that their mother left instructions that she be cremated and her ashes thrown off the local Roseman Covered Bridge.
Michael initially refuses to comply, but Carolyn convinces him after they examine some photos of her mother and a letter. They go through a series of letters from a man named Robert Kincaid (Clint Eastwood) addressed to their mother, revealing that he had a four-day affair with her in 1965. The affair took place while her husband and children were away at the Illinois State Fair.
The story in their mother's diaries details the impact the affair had on Francesca and Robert's lives, since they almost eloped. According to the diary, she intervened at the last minute in consideration of what her leaving would do to her children and husband. As the film progresses, the four days that Francesca and Robert spent together are retold.
The Streep character, Francesca Johnson, was an Italian war bride brought back to Iowa in 1945 by the soldier whose heart she captured. Twenty years later, she lives on a farm with her middle-aged husband and teenage son and daughter. Long since before, she's had to give up her career as a teacher because her spouse, an otherwise gentle and considerate man, doesn't approve of a working wife. She lives, without dreams or passion, a life of quiet desperation.
Then along comes the Eastwood character, Robert Kincaid, during a period when Francesca is home alone, the rest of the family off to the State Fair in neighboring Illinois. Kincaid is a photographer for National Geographic, his current assignment to photograph the local covered bridges of Madison County. The divorced Kincaid is the quintessential wanderer, at home wherever in the world he finds himself at the moment, taking his experiences and relationships as they come.
During the four days of her family's absence, Francesca falls deeply in love with Robert, and he with her. In him, she rediscovers her dreams of the wider world long denied her in rural Iowa. In her, he discovers the personal and emotional commitment that he professes not to need.
When Francesca must choose between Robert and her family, Duty, Responsibility and Loyalty battle with the Heart for the outcome. The scene towards the end of the film in her husband's pick-up truck, wherein Francesca displays wrenching mental turmoil and emotional anguish over a decision that she must make immediately, is, by itself, an Oscar caliber performance by Streep.
Director: Clint Eastwood
Year of Release: 1995

Character to watch: Meryl Streep as Francesca Johnson.
Journal your answers to the following questions after you watch the movie.
How does this particular character's journey compare with yours?
Did the character develop certain characteristics during the movie that you have or that you would like to have? If so, what are those characteristics?
What obstacles did this character face? What was his or her biggest challenge?
What would you have done differently if you had been in the same position as the character?
Is this character the type of person you would be friends with? Why or why not?