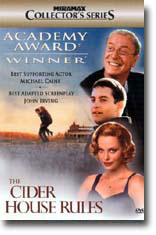 Honored with two Academy Awards, Best Supporting Actor for Michael Caine, and Best Adapted Screenplay for John Irving, The Cider House Rules tells a compelling and heartwarming story about how far a young man must travel to find the place where he truly belongs.
Homer Wells (Tobey Macguire) has lived nearly his entire life within the walls of St. Cloud's Orphanage in rural Maine. Though groomed by its proprietor, Dr. Larch (Caine), to be his successor, Homer nonetheless feels the need to strike out on his own and experience the world outside.
While working at an apple orchard, Homer falls for the beautiful Candy (Charlize Theron) and learns some powerfully indelible lessons about life, love, and home. The Cider House Rules is based on John Irving's best-selling American classic and this entertaining motion picture earned raves from critics and moviegoers.
Just when thoughtful adults despair that Hollywood will never again make movies for them to enjoy, Cider House Rules comes along and gives everybody reason to hope. From its wide, opening shot to its literary ending, this film delivers to its audience an old-fashioned, satisfying, movie-going experience while at the same time focusing on quite a surprising topic: abortion.
Framed with Dickensian sympathy for all its characters, Cider House weaves its way in and out of the lives of half a dozen startlingly original people, many of them quite unusual for mainstream cinema.
Director:  Lasse Hallstrom
Year of Release: 1999

Character to watch: Tobey Maguire as Homer Wells.
Journal your answers to the following questions after you watch the movie.
How does this particular character's journey compare with yours?
Did the character develop certain characteristics during the movie that you have or that you would like to have? If so, what are those characteristics?
What obstacles did this character face? What was his or her biggest challenge?
What would you have done differently if you had been in the same position as the character?
Is this character the type of person you would be friends with? Why or why not?