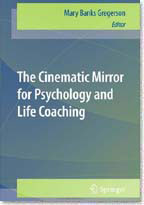 Cinema both reflects life and contours life—that is its psychological power. And for decades, clinicians and educators have recognized the value of this power, using it to respectively heal in therapy and educate in the classroom.
The Cinematic Mirror for Psychology and Life Coaching mines the illustrative value of cinema, offering therapists and life coaches access to ideas that can motivate and enlighten clients. Although many movie guides exist, this volume complements the available literature by adding positive psychology, mental health, and wellness perspectives to the clinical/educational/coaching mix.
The serious intent to cull from cinema its underlying psychological value has motivated noted clinicians, life coaches, and cultural critics to offer science-based analysis and intervention strategies. Readers may add their own movie insights and professional expertise to this rich foundation. The volume covers international as well as domestic cinema in a variety of genres, providing a range of film choices relevant to clients' lives. Beyond this, it expands on universal concepts of strengths, capabilities, and coping methods.
Chapters in The Cinematic Mirror: analyze how movies can create and relieve trauma, challenge Hollywood's portrayal of the American family, overview the use of movies to examine relationships in therapy, explore the acclaimed Up television cinema verite series as studies in personal growth and social change, reinterprets images of disability in terms of positive psychology, examines models, or the lack thereof, for the American adolescent rite of passage, traces the history of mental illness stereotypes in film.
About the Author: Mary Banks Gregerson is a clinical psychologist, a scientific researcher, and a specialist in several unique fields of psychology including psychoneuroimmunology, environmental health psychology, performance psychology, and lifestyle balancing.
Author: Mary Banks Gregerson
Year of Release: 2010