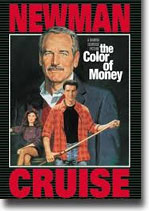 Martin Scorsese handles directing duties in this 1986 sequel to the classic 1961 film The Hustler, which marks the return of Paul Newman to the role of pool shark Fast Eddie Felson.
Anxious to break into the big time again, Eddie finds a talented protégé (Tom Cruise) to groom; but with the addition of the latter's manipulative girlfriend (Mary Elizabeth Mastrantonio) and the wild streak in Cruise's character, the trio make for a fascinating portrait in group psychology.
The cast is brilliant, the script by Richard Price is a paragon of tightly controlled character study and drama (at least in the film's first half), and Scorsese and cinematographer Michael Ballhaus make an ornate show of the collision and flight of pool balls through space–something of a metaphor for the dynamics among the three principals.
The film is generally regarded as weaker in its second half, and rightly so, as everything that was interesting in the first place disappears. Still, Newman won a deserved Oscar for his performance. Now available for the first time on Blu-ray with an astonishing digital transfer.
Director:  Martin Scorsese
Year of Release: 1986

Character to watch: Paul Newman as Fast Eddie Felson.
Journal your answers to the following questions after you watch the movie.
How does this particular character's journey compare with yours?
Did the character develop certain characteristics during the movie that you have or that you would like to have? If so, what are those characteristics?
What obstacles did this character face? What was his or her biggest challenge?
What would you have done differently if you had been in the same position as the character?
Is this character the type of person you would be friends with? Why or why not?