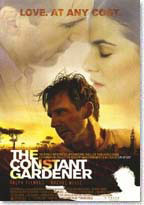 Justin Quayle (Ralph Fiennes), a shy low-rung British diplomat and horticultural hobbyist posted in Kenya, is one to avoid making a fuss until he learns that his wife Tessa (Rachel Weisz) was found dead on the veldt.
Tessa has been murdered at a crossroads along with her Kenyan driver. Her colleague doctor Arnold Bluhm (Hubert Koundé) is initially suspected of her murder but is later found to have been murdered on the same day as Tessa. Various rumours abound that the two were having an affair; however, it is later revealed that Bluhm was in fact gay.
In flashbacks, we see how in London, Justin met his future wife Tessa, an outspoken humanitarian and Amnesty activist, falls in love with her and how she persuades him to take her back with him to Kenya. As the mystery surrounding his wife's death unfolds, Justin is radicalised in his determination to get to the bottom of her murder.
He soon runs up against a drug corporation that is using Kenya's population for fraudulent testing of a tuberculosis drug ("dypraxa") with known harmful side effects and disregards the well-being of its poor African test subjects. Danny Huston plays Sandy Woodrow, the British High Commissioner on the scene. Bill Nighy is Sir Bernard Pellegrin, head of the Africa Desk at the Foreign Office and thus Justin's and Sandy's boss.
The plot is based on a novel by John Le Carre, who said that "The constant gardener" is an excellent adaptation of his book of the same name, even though it is quite different from it. In my opinion, the director, Fernando Meirelles, should be recognized for doing an excellent job in what ended up being an outstanding (and thouroughly non-linear) film. Even though I didn't like this movie as much as I loved Meirelles' previous film, "City of God", it easy to see that he retains his gift for surprising the spectator, and treating him with scenes of astonishing beauty.
The plot is, in general, the same of the book. Justin Quayle (Ralph Fiennes), the main character, is an extremely polite English diplomat working in the British Embassy in Kenya. He who has only two passions in his life: gardening and his wife Tessa (Rachel Weisz). Tessa isn't overly conventional, and can be downright rude when she is defending one of her many causes, while Justin is taking care of his garden. Despite their differences, they complement each other. Justin, oblivious to the reality that surrounds him in Kenya, grounds himself in Tessa, and can't imagine his life without her.
Director: Fernando Meirelles
Year of Release: 2005

Character to watch: Ralph Fiennes as Justin Quayle.
Journal your answers to the following questions after you watch the movie.
How does this particular character's journey compare with yours?
Did the character develop certain characteristics during the movie that you have or that you would like to have? If so, what are those characteristics?
What obstacles did this character face? What was his or her biggest challenge?
What would you have done differently if you had been in the same position as the character?
Is this character the type of person you would be friends with? Why or why not?