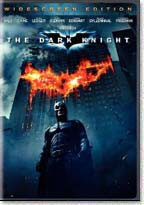 In Gotham City, the Joker (Heath Ledger) and his accomplices rob a mob-owned bank. The accomplices kill each other off one by one in a sequence masterminded by the Joker, who escapes alone with all the money.
Batman (Christian Bale) and Lt. Jim Gordon (Gary Oldman) decide to include the new district attorney, Harvey Dent (Aaron Eckhart), in their plan to eradicate the mob. Although Dent is dating Rachel Dawes (Maggie Gyllenhaal), Bruce Wayne is impressed with his idealism and offers to throw him a fundraiser.
Mob bosses Sal Maroni (Eric Roberts), Gambol (Michael Jai White), and Chechen (Ritchie Coster) hold a videoconference with Lau (Chin Han), a Chinese accountant who has hidden their funds and fled to Hong Kong. The Joker interrupts the meeting, warning that Batman is unhindered by jurisdiction.
He offers to kill Batman for half their money, but the mob bosses refuse, and Gambol puts a bounty on him. The Joker kills Gambol and takes control of his men. Batman captures Lau and delivers him back to Gotham to testify against the Joker and the mob. The Joker announces that people will die each day unless Batman reveals his identity. He then kills Commissioner Gillian B. Loeb (Colin McFarlane) and the judge presiding over the mob trials. He also targets Dent at the fundraiser, but Bruce hides Dent.
Gordon foils the Joker's assassination attempt on Mayor Garcia (Nestor Carbonell), apparently sacrificing himself in the process. Bruce plans to reveal his identity, but Dent instead names himself as Batman to protect the truth. Dent is taken into protective custody and pursued by the Joker across the city; Batman rushes to Dent's aid. Gordon, who faked his death, helps apprehend the Joker and is promoted to Commissioner.
Director: Christopher Nolan
Year of Release: 2008

Character to watch: Heath Ledger as The Joker.
Journal your answers to the following questions after you watch the movie.
How does this particular character's journey compare with yours?
Did the character develop certain characteristics during the movie that you have or that you would like to have? If so, what are those characteristics?
What obstacles did this character face? What was his or her biggest challenge?
What would you have done differently if you had been in the same position as the character?
Is this character the type of person you would be friends with? Why or why not?