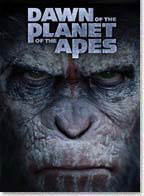 A growing nation of genetically evolved apes led by Caesar (Andy Serkis) is threatened by a band of human survivors of the devastating virus unleashed a decade earlier. They reach a fragile peace, but it proves short-lived, as both sides are brought to the brink of a war that will determine who will emerge as Earth's dominant species.
This is one of 2014's best movies so far. The story is original and creative, bringing more potential to characters from the first film. Every ape in the movie looks astoundingly real, with no flaws. Acting is solid, but some characters seem to be a bit flat. The music is not used throughout the movie as much as others, but brings great aid to some very emotional scenes.
This movie picks up about 10 years after the events of Rise of the Planet of the Apes. If you're like me, for the first few minutes you'll wonder if you've mistakenly wandered into the bargain movie theater and you're watching Contagion because the movie starts with all of these news clips reporting details about a massive quarantine and all these deaths due to something like the swine flu. Don't worry – it's the right movie. Basically, the human population is getting wiped out from disease that was spread by the apes that were getting tested on in the first movie.
The movie finally starts about 10 years later and Caesar is wondering if there are any humans left, because they haven't seen any sign of them in 2 years. Proving Caesar has incredible timing, his question is answered when his son and another ape run into a group of hikers in the wood. They are trying to get to some giant dam or something to set up a power source for this group of humans that have survived. They need the power for survival, and also to communicate with the rest of the world to see who else has survived the epidemic. The problem: the apes don't trust humans and humans don't trust the apes.
Director: Matt Reeves
Year of Release: 2014

Character to watch: Andy Serkis as Caesar.
Journal your answers to the following questions after you watch the movie.
How does this particular character's journey compare with yours?
Did the character develop certain characteristics during the movie that you have or that you would like to have? If so, what are those characteristics?
What obstacles did this character face? What was his or her biggest challenge?
What would you have done differently if you had been in the same position as the character?
Is this character the type of person you would be friends with? Why or why not?