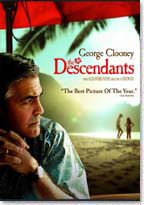 Matt King (George Clooney) is a Honolulu-based lawyer and the sole trustee of a family trust that controls 25,000 acres of pristine land on the island of Kauai. Though he has been able to manage his money, most of Matt's cousins are broke from squandering their share of the inheritance.
The trust will expire in seven years because of the rule against perpetuities, so the King family has decided to sell the land to Kaua'i native Don Holitzer for development. Just before family members are ready to formally endorse the deal, a boating accident near Waikiki renders Matt's wife, Elizabeth, comatose.
The Kings have two daughters, 10-year-old Scottie (Amara Miller) and 17-year-old Alex (Shailene Woodley), who is not close to. With Elizabeth in a coma at Queen's Hospital, he is forced to confront Scottie's inappropriate behavior with other children and Alex's destructive ways.
Matt learns that Elizabeth will never awaken from her coma, which means that under the terms of her living will she must be disconnected shortly from life support. When Matt tells Alex the news, she reveals that Elizabeth was having an affair at the time of the accident, which caused a major rift between mother and daughter.
The Descendants has many things going for it. Clooney, for one, beautiful views of two of the islands of Hawaii, a strong story that does not shy away from reality and avoids the sugarcoating so prevalent in Hollywood movies, and great acting from all the actors including the aforementioned Clooney.
Director: Alexander Payne
Year of Release: 2011

Character to watch: George Clooney as Matt King.
Journal your answers to the following questions after you watch the movie.
How does this particular character's journey compare with yours?
Did the character develop certain characteristics during the movie that you have or that you would like to have? If so, what are those characteristics?
What obstacles did this character face? What was his or her biggest challenge?
What would you have done differently if you had been in the same position as the character?
Is this character the type of person you would be friends with? Why or why not?