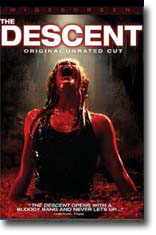 This movie will absolutely terrify you if you are afraid of the dark, claustrophobic, have a fear of being trapped under the earth, and/or have a fear of being trapped in a confined space with creatures that can see you but you can't see them. If any of these things scare you at all, prepare to be scared out of your wits by this flick.In addition to claustrophobia, bloody mayhem dominates this high-adrenaline horror film.
Six women (including one who lost her husband and child the year before, and one who harbors a bitter secret) spelunk in an unexplored cavern system that turns out to harbor mysterious, predatory creatures. That sums up the story, but this rather simple plot doesn't begin to describe the riveting, stomach-lurching thrills this movie provides.
The script affords the relatively unknown cast (led by Shauna MacDonald and Natalie Mendoza) just enough room to make their characters distinct and genuine, so that when they're dropped into utmost peril our empathy is engaged as much as our fear.
The dynamic direction and editing make the cavern a palpable, physical presence, even before the creepy beasts crawl out of their nooks. This is not a movie for everyone; it is extremely gruesome and will induce panic attacks in anyone with even a mild fear of closed spaces. But for anyone seeking something smarter, faster, and wrenching, The Descent will draw you into its unsettling ooze.
Director: Neil Marshall
Year of Release: 2005

Character to watch: Shauna MacDonald as Sarah.
Journal your answers to the following questions after you watch the movie.
How does this particular character's journey compare with yours?
Did the character develop certain characteristics during the movie that you have or that you would like to have? If so, what are those characteristics?
What obstacles did this character face? What was his or her biggest challenge?
What would you have done differently if you had been in the same position as the character?
Is this character the type of person you would be friends with? Why or why not?