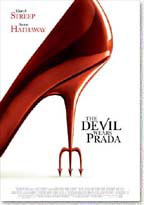 Andrea "Andy" Sachs (Anne Hathaway) is an aspiring journalist fresh out of Northwestern University. Despite ridiculing the shallowness of the fashion industry, she lands the job a million girls would kill for: junior personal assistant to Miranda Priestly (Meryl Streep), the icy editor-in-chief of Runway fashion magazine. Andy puts up with Miranda's bizarre and humiliating treatment in hopes of getting a job as a reporter or writer somewhere else.
At first, Andy fumbles with her job and fits in poorly with her gossipy, fashion-conscious coworkers, especially Miranda's senior assistant Emily Charlton (Emily Blunt). However, with the help of art director Nigel (Stanley Tucci), she gradually learns her responsibilities and begins to dress more stylishly. She also meets attractive young writer Christian Thompson (Simon Baker), who offers to help her with her career.
As she spends increasing amounts of time at Miranda's beck and call, problems arise in her relationships with her college friends and her boyfriend Nate (Adrian Grenier), a chef working his way up the career ladder. One day, Andy saves Miranda from being embarrassed by Emily at a charity benefit, and Miranda rewards her by offering to take her to the fall fashion shows in Paris instead of Emily.
Andy hesitates to take this privilege away from Emily, but she is forced to accept the offer after being told by Miranda that she will lose her job if she declines. Later, Emily is hit by a car and Andy faces the task of having to break the Paris news to her.
Director: David Frankel
Year of Release: 2006

Character to watch: Anne Hathaway as Andrea Sachs.
Journal your answers to the following questions after you watch the movie.
How does this particular character's journey compare with yours?
Did the character develop certain characteristics during the movie that you have or that you would like to have? If so, what are those characteristics?
What obstacles did this character face? What was his or her biggest challenge?
What would you have done differently if you had been in the same position as the character?
Is this character the type of person you would be friends with? Why or why not?