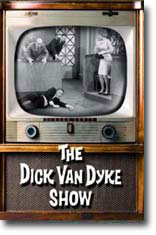 Before The Dick Van Dyke Show, suburbia was never portrayed on television as a haven of sophistication. We never followed Ozzie Nelson to work. And we never, ever fantasized what Ward and June Cleaver did behind closed doors.
But Your Show of Shows veteran Carl Reiner's groundbreaking series broke the staid, sitcom mold.Just consider Mary Tyler Moore's Laura Petrie, the ravishing wife of Dick Van Dyke's comedy writer, Rob Petrie. "I'm just a housewife," she proclaims in the episode "To Tell or Not to Tell," just before breaking into an incendiary bossa nova in the Petrie living room.
In "The Return of Happy Spangler," she is jokingly identified as Jackie Kennedy. But the comparison is apt. She's got style (those capri pants scandalized the show's sponsors!); she's got grace.
The Dick Van Dyke Show boasts a peerless ensemble, gold-standard writing, and characters who have become icons. How many comedy writers were inspired to get into the business by watching Rob and his staff, man-hungry Sally Rogers (Rose Marie) and old school "human joke machine" Buddy Sorrell (Morey Amsterdam), brainstorm sketches for tyrannical boss Alan Brady (much discussed, and much feared, but never seen in season 1)?
Much of the comedy in the first season springs from Rob juggling his glamorous career with his harried home life. In the first episode, he compels his over-protective wife to attend a party at Alan Brady's, though she is worried son Ritchie (Larry Matthews) is sick ("He turned down his cupcake"). In "Washington vs. the Bunny," Rob must choose between a business trip and seeing Ritchie in a school play. In another episode, Rob forgets "Forty-Four Tickets" he had promised to the P.T.A. But back to Laura (and about time!).
As the season unfolds, Moore comes into her own as a gifted comedienne, and she takes her stock character to dizzy new heights, as witness "My Blonde-Haired Brunette" and the classic "The Curious Thing About Women," the one with the inflatable boat. A pop culture benchmark, The Dick Van Dyke Show is must-own television.

Character to watch: Mary Tyler Moore as Laura Petrie.
Journal your answers to the following questions after you watch the series.
How does this particular character's journey compare with yours?
Did the character develop certain characteristics during the movie that you have or that you would like to have? If so, what are those characteristics?
What obstacles did this character face? What was his or her biggest challenge?
What would you have done differently if you had been in the same position as the character?
Is this character the type of person you would be friends with? Why or why not?