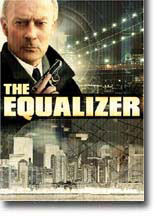 Golden Globe winner Edward Woodward stars as private detective Robert McCall, a sophisticated former government agent atoning for the sins of his past by righting the wrongs of a flawed legal system in the groundbreaking hit suspense series The Equalizer.
Follow this intense anti-hero as he protects innocent people who feel they have nowhere else to turn.Following the clues each step of the way are some of Hollywood's hottest guest stars, including Luis Guzman, Bradley Whitford, Melissa Joan Hart, and Tony Shalhoub.
Nominated for seven Primetime Emmy Awards and two Golden Globes, The Equalizer is a provocative, action-packed murder-mystery series you won't want to miss.In The Equalizer, McCall is more than a private detective – he's man with a lot of contacts who is available for hire if you have a problem that you don't know how to solve. His no-nonsense attitude, compassion, and experience with dealing with a wide variety of situations makes him a powerful and useful detective.
McCall is a tough-as-nails, no-BS private eye who went into business for himself after leaving the shadowy agency he once worked for. McCall works on behalf of those whose problems the police cannot – or will not – get involved in. His card reads, 'Got a problem? Odds against you? Need help? Call – The Equalizer.

Character to watch: Edward Woodward as Robert McCall.
Journal your answers to the following questions after you watch the series.
How does this particular character's journey compare with yours?
Did the character develop certain characteristics during the movie that you have or that you would like to have? If so, what are those characteristics?
What obstacles did this character face? What was his or her biggest challenge?
What would you have done differently if you had been in the same position as the character?
Is this character the type of person you would be friends with? Why or why not?
Click here to order this DVD Collection at Amazon.