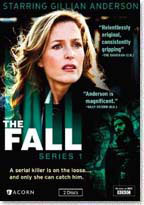 The plot of The Fall is incredibly straightforward; the police are out to catch a serial killer. On its own, that doesn't sound very interesting. What makes The Fall interesting is the time it takes allowing the audience to get to know the serial killer. We know that Paul Spector (Jamie Dornan) is the killer; there's no mystery for us. But the series spend an equal amount of time going back and forth between Gibson's hunt to catch the killer and Paul's everyday life as a husband, father, and grief counselor.
There are supporting characters who work to a varying extent; Bronagh Waugh fares best as Paul's wife Sally-Ann. Her illusions about her husband are shattered as she begins to discover some of the truth about him. But the series is truly anchored by Gillian Anderson and Jamie Dornan.
Anderson has proven herself to be a capable actress over the years, and she continues that here. Her steely and icy demeanor occasionally betray a vulnerability, a serious desire not just to catch the killer but to provide justice for his victims.
Yet Dornan is the real find. His performance is both chilling and unsettling. His interactions with his family seem genuine and touching, but his precision and his manipulation are truly frightening. Indeed, the fact that the series takes so much time to examine Paul and his life forces the audience to examine and grapple with the similarities that exist between him and Stella.
It forces us to look in the eye of a serial killer and see ourselves in the reflection. It's a terrifying proposition, but Dornan is truly fantastic. Of course, he's aided by Allan Cubitt's wonderful script. The writing truly delves into the mind of Paul, and the results are simply extraordinary.

Character to watch: Gillian Anderson as Stella Gibson.
Journal your answers to the following questions after you watch the series.
How does this particular character's journey compare with yours?
Did the character develop certain characteristics during the movie that you have or that you would like to have? If so, what are those characteristics?
What obstacles did this character face? What was his or her biggest challenge?
What would you have done differently if you had been in the same position as the character?
Is this character the type of person you would be friends with? Why or why not?