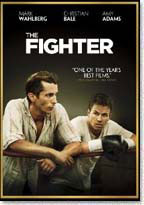 Micky Ward (Mark Wahlberg) is an American welterweight boxer from Lowell, Massachusetts. Managed by his mother, Alice Ward (Melissa Leo), and trained by his older half-brother, Dicky Eklund (Christian Bale), Micky has not had a particularly successful career: He's become a stepping stone for other boxers to defeat on their way up.
Complicating matters, Dicky, a former boxer whose peak of success was knocking Sugar Ray Leonard down in an HBO televised match, has fallen apart since then, becoming addicted to crack cocaine. He is now being filmed for an HBO documentary he believes to be about his comeback. On the night of an undercard fight in Atlantic City, Micky's scheduled opponent is ill, and a substitute is found who is 20 pounds heavier than Micky. Despite Micky's reservations, his mother and brother agree to the terms so that they can all get the purse.
Micky is soundly defeated by the much heavier fighter in an obvious mismatch. Frustrated with his career and embarrassed by his defeat, Micky tries to retreat from the world and forms a relationship with Charlene Fleming (Amy Adams), a former college athlete who dropped out and became a bartender.
After several weeks, Alice arranges another fight for Micky, who, concerned it will turn out the same as before, shows serious hesitation. His mother and seven sisters blame Charlene for his lack of motivation. Micky mentions that he's received an offer to be paid to train in Las Vegas, but Dicky says he will match the offer so he can keep training and working with his family.
Bale was absolutely flawless in his portrayal of such a complex character, Dickie. While I found Mark Wahlberg's Mickey to be pretty one dimensional, Bale executed an emotional performance of a character who encompassed every adjective in the book: funny, quirky, crazy, selfish, pathetic, delusional, endearing, and loyal. I also thought Amy Adams was wonderful in a role that showcased her range as an actress.
As a Massachusetts native, I enjoyed seeing the Lowell setting and I was oh so grateful that there were no God-awful, exaggerated accents (I'm talking to you Diane Lane). Although the "underdog comes up big" story is one we've seen before, this is truly a well acted, entertaining movie.
Director: David O'Russell
Year of Release: 2010

Character to watch: Christian Bale as Dickie Eklund.
Journal your answers to the following questions after you watch the movie.
How does this particular character's journey compare with yours?
Did the character develop certain characteristics during the movie that you have or that you would like to have? If so, what are those characteristics?
What obstacles did this character face? What was his or her biggest challenge?
What would you have done differently if you had been in the same position as the character?
Is this character the type of person you would be friends with? Why or why not?