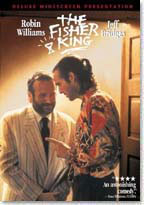 Jack Lucas (Jeff Bridges), a cynical, arrogant talk radio host, becomes suicidally despondent after his insensitive on-air comments inadvertently prompt a depressed caller to commit a mass murder at a popular Manhattan bar.Three years later, while heavily intoxicated and depressed, he attempts suicide. Before he can do so, he is mistaken for a homeless person and is attacked and nearly set on fire by thugs. He is rescued by Parry (Robin Williams), a deluded homeless man who is on a mission to find the Holy Grail, and tries to convince Jack to help him.
Jack learns that Parry had slipped into a catatonic state following his wife's death and had remained there for a few years. When he emerged he was obsessed with the legend of the Fisher King, a form of which he recounts to Jack.
The Fisher King was charged by God with guarding the Holy Grail, but incurred an incapacitating wound for his sin of pride. A simple-minded Fool asks the King why he suffers, and when the King says he is thirsty, the Fool gives him a cup of water to drink. The king realizes the cup is the Grail and is baffled that the boy found it.
Jack seeks to redeem himself by helping Parry find love again. He sets Parry up with Lydia (Amanda Plummer), a shy woman who works as an accountant for a Manhattan publishing house, with whom Parry has been smitten. Jack and his girlfriend, Anne (Mercedes Ruehl), then join them for a dinner date.
Following dinner, Parry declares his love for Lydia but is once again haunted by the Red Knight. Trying to escape his hallucinatory tormentor, he is attacked by the same thugs who had earlier attacked Jack. The beating is not fatal but causes Parry to become catatonic again.
Director: Terry Gilliam
Year of Release: 1991

Character to watch: Robin Williams as Parry.
Journal your answers to the following questions after you watch the movie.
How does this particular character's journey compare with yours?
Did the character develop certain characteristics during the movie that you have or that you would like to have? If so, what are those characteristics?
What obstacles did this character face? What was his or her biggest challenge?
What would you have done differently if you had been in the same position as the character?
Is this character the type of person you would be friends with? Why or why not?