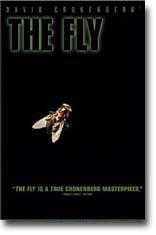 David Cronenberg's 1986 remake of the science fiction classic about a scientist who accidentally swaps body parts with a fly is both smart and terrifying: an allegory for the awful processes of slow death and a monster movie with a tragic spin. Jeff Goldblum gives a masterful performance as a sweet, nerdy scientist whose romance with a writer (Geena Davis) makes him more fully alive.
Next thing you know, a tiny oversight in an experiment causes him to transmogrify, gradually, into something more like an insect than a human. This is Cronenberg's finest, so expect The Fly to be a gross-out, but in the way that disease corrupts the body and can make a loved one unrecognizable on every level. This is one of Cronenberg's best films, and certainly one of the important movies of the 1980s.
Seth Brundle (Goldblum), a brilliant but eccentric scientist attempts to woo investigative journalist Veronica Quaife by offering her a scoop on his latest research in the field of matter transportation, which against all the expectations of the scientific establishment have proved successful.
Up to a point. Brundle thinks he has ironed out the last problem when he successfully transports a living creature, but when he attempts to teleport himself a fly enters one of the transmission booths, and Brundle finds he is a changed man.
The Fly represents a perfect blend of Cronenberg's b-horror sensibility and his obsession with the overlap between man and machine, flesh and technology. It takes what might have been a fairly campy remake of a fairly campy horror film and elevates it to a whole new level, giving it an intriguing science fiction premise and a horrific conclusion.
Goldblum gives a brilliant performance, among his best, as a cerebral scientist who is gradually overcome by the flesh in the form of libidinal urges. The special effects are just right — not enough to overwhelm the story, but sufficiently convincing to horrify. I saw this with a large group very recently, many of whom had never seen it before, and there were uncomfortable laughs and gasps in all the right places. What is even better, as we talked about the film afterwards there was a lot to say.
Director: David Cronenberg
Year of Release: 1986

Character to watch: Jeff Goldblum as Seth Brundle.
Journal your answers to the following questions after you watch the movie.
How does this particular character's journey compare with yours?
Did the character develop certain characteristics during the movie that you have or that you would like to have? If so, what are those characteristics?
What obstacles did this character face? What was his or her biggest challenge?
What would you have done differently if you had been in the same position as the character?
Is this character the type of person you would be friends with? Why or why not?