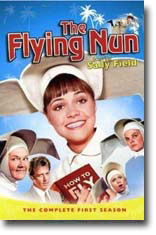 Sally Field parlayed her winsome TV personality into the unlikely hit The Flying Nun from 1967 to 1970. Field plays Sister Bertrille, a 90-pound novice nun assigned to a crumbling convent in San Juan, Puerto Rico, where the gusty winds and her order's seagull-shaped headgear combine to give her the ability to zoom around the Caribbean helping her fellow sisters and the kids attending their school.
While most of us remember the flying part–and what a great fantasy for kid viewers, especially–the gist of the series focused more about Sister Bertrille's naiveté and of her youthful determination to make changes in her stuffy convent.
Sister Bertrille provides a lot of fish-out-of-water appeal, and the supporting cast is extremely likable, including the narrator, Sister Jacqueline (the great character actress Marge Redmond), and a young Shelley Morrison, who plays the American-slang-mangler Sister Sixto ("She's sharp as a tick!").
Sister Bertrille's character also owes more than a nod to Maria von Trapp; she even gets the orphan students out of their scratchy uniforms and into comfier duds, though admittedly not made of Austrian drapes. The scrapes Sister Bertrille gets into are pretty standard '60s sitcom fare, but Field's sweet earnestness gives the show appeal beyond the sum of its pieces.
The Flying Nun is a fun, squeaky clean TV show from the 1960's. Sally Field has no special feelings toward it. She claims it almost ruined her career. The show is based on a children's book called The 15th Pelican. The Flying Nun was spoofed on The Simpsons with Bart waiting for Homer to pick him up from soccer practice.
During a storm, Bart sees Sister Bertrille smash into a hill and explode into a fireball. The visual effects used to make Sally Field fly are quite good. Alejandro Rey plays a nightclub owner who befriends Sister Bertrille. The show's upbeat, whimsical music is good. The Flying Nun is a guilty pleasure from the past.

Character to watch: Sally Field as Sister Bertrille.
Journal your answers to the following questions after you watch the series.
How does this particular character's journey compare with yours?
Did the character develop certain characteristics during the movie that you have or that you would like to have? If so, what are those characteristics?
What obstacles did this character face? What was his or her biggest challenge?
What would you have done differently if you had been in the same position as the character?
Is this character the type of person you would be friends with? Why or why not?