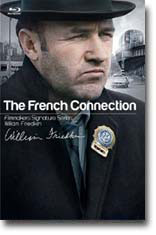 William Friedkin's classic film The French Connection was propelled to box-office glory, and a fistful of Oscars, by its pedal-to-the-metal filmmaking and fashionably cynical attitude toward law enforcement. Gene Hackman's Jimmy "Popeye" Doyle, a brutally pushy New York City narcotics detective, is a dauntless crime fighter and Vietnam-era "pig," a reckless vulgarian whose antics get innocent people killed.
Loosely based upon an actual investigation that led to what was then the biggest heroin seizure in U.S. history, the picture traces the efforts of Doyle and his partner (Roy Scheider) to close the pipeline pumping Middle Eastern smack into the States through the French port of Marseilles. The actual French Connection cops, Eddie Egan and Sonny Grosso, make cameo appearances.
It was widely recognized at the time that Friedkin had lifted a lot of his high-strung technique from the Costa-Gavras thrillers The Sleeping Car Murders and Z, and he even imported one of Costa-Gavras's favorite thugs, Marcel Bozzuffi, to play the Euro-trash hit man plugged by Doyle in an elevated train station.
This DVD is one of the Filmmakers Signature Series on Blu-ray. This new HD transfer comes with an exclusive 28-page booklet on the making of the film, which includes in-depth actor and director profiles. The French Connection earned 8 Academy Award Nominations and 5 Wins, including Best Director for Friedkin.
Director: William Friedkin
Year of Release: 1971

Character to watch: Gene Hackman as Jimmy Doyle.
Journal your answers to the following questions after you watch the movie.
How does this particular character's journey compare with yours?
Did the character develop certain characteristics during the movie that you have or that you would like to have? If so, what are those characteristics?
What obstacles did this character face? What was his or her biggest challenge?
What would you have done differently if you had been in the same position as the character?
Is this character the type of person you would be friends with? Why or why not?