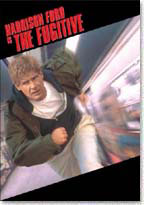 Dr. Richard Kimble (Harrison Ford), a surgeon in Chicago, arrives home one night to find his wife, Helen (Sela Ward), fatally wounded by a one-armed man. Although Kimble makes an effort to subdue the killer, the man escapes. The lack of evidence of a break-in, his being the beneficiary of Helen's lucrative life insurance, and a misunderstood 9-1-1 call, result in his conviction of first degree murder in a court of law.
On his way to death row aboard a bus, his fellow prisoners attempt an escape. The pandemonium results in a wounded guard and a dead driver, causing the bus to fall down a ravine and into the path of an oncoming train. Kimble escapes the destructive collision and flees the scene. Deputy U.S. Marshal Samuel Gerard (Tommy Lee Jones), and his colleagues Renfro (Joe Pantoliano), Biggs (Daniel Roebuck), Newman (Tom Wood) and Poole (L. Scott Caldwell), arrive at the crash site and formulate a search plan to apprehend the escaped convicts. Kimble sneaks into a hospital to treat his wounds and change his appearance; he later makes a getaway in an ambulance.
Kimble returns to Chicago to hunt for the murderer and secretly acquires some money from his friend and associate, Dr. Charles Nichols (Jeroen Krabbé). Posing as a janitor, Kimble enters Cook County Hospital's prosthetic department to obtain a list of people who had their prosthetic arm repaired shortly after his wife's murder. Gerard realizes that Kimble must be looking for the one-armed man.
Director:  Andrew Davis
Year of Release: 1993

Character to watch: Tommy Lee Jones as Samuel Gerard.
Journal your answers to the following questions after you watch the movie.
How does this particular character's journey compare with yours?
Did the character develop certain characteristics during the movie that you have or that you would like to have? If so, what are those characteristics?
What obstacles did this character face? What was his or her biggest challenge?
What would you have done differently if you had been in the same position as the character?
Is this character the type of person you would be friends with? Why or why not?