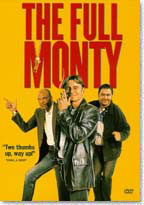 The once-successful steel mills of Sheffield, South Yorkshire, have shut down and most of the employees have been laid off. Former steel workers Gary "Gaz" Schofield (Robert Carlyle) and Dave Horsefall (Mark Addy) have resorted to stealing scrap metal from the abandoned mills to sell. Gaz is facing trouble from his ex-wife, Mandy (Emily Woof), over child support payments that he's failed to make since losing his job. Gaz's son, Nathan (William Snape), loves his father but wishes they could do more "normal stuff" in their time together.
One day, Gaz spots a crowd of women lined up outside a local club to see a Chippendale's striptease act. He gets the idea to form his own strip tease group using local men in hopes of making enough money to pay off his child support obligations. The first to join the group is Lomper (Steve Huison), a security guard at Harrison's, the steel mill where Dave and Gaz once worked.
Severely depressed, Lomper attempts to commit suicide, but is rescued by Dave who convinces him to join the group. Next they recruit Gerald Cooper (Tom Wilkinson), a former manager at the plant, who has been hiding from his wife the fact that he's been laid off. Gaz and Dave see Gerald and his wife, Linda Deidre Costello, at a dance class and recruit him to teach them some actual dance moves.
The film carefully builds the story with expert comedic setups (the auditions and rehearsals, etc.) of everyday men trying to do something they are seemingly unequipped and ill-prepared to accomplish, with touches of pathos as we see the troubles and strains in their personal lives. All this leads to the Big Night and a grand finale that is funny, heart-warming and beautifully filmed. A terrific little film with a lot on its mind, beneath the humor. Something to do with the dignity of work, of self-respect, and of the touching care one can find amidst people undergoing hard times.
Director: Peter Cattaneo
Year of Release: 1997

Character to watch: Robert Carlyle as Gary "Gaz" Schofield.
Journal your answers to the following questions after you watch the movie.
How does this particular character's journey compare with yours?
Did the character develop certain characteristics during the movie that you have or that you would like to have? If so, what are those characteristics?
What obstacles did this character face? What was his or her biggest challenge?
What would you have done differently if you had been in the same position as the character?
Is this character the type of person you would be friends with? Why or why not?