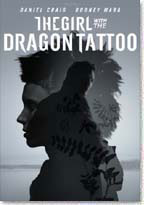 In Stockholm, Sweden, journalist Mikael Blomkvist (Daniel Craig), co-owner of Millennium magazine, has just lost a libel case brought against him by corrupt businessman Hans-Erik Wennerström (Ulf Friberg). Meanwhile, Lisbeth Salander (Rooney Mara), a brilliant but troubled researcher and hacker, compiles an extensive background check on Blomkvist for business magnate Henrik Vanger (Christopher Plummer), who has a special task for him.In exchange for the promise of damning information about Wennerström, Blomkvist agrees to investigate the disappearance and assumed murder of Henrik's grandniece, Harriet, 40 years before.
After moving to the Vanger family's compound, Blomkvist uncovers a notebook containing a list of names and numbers that no one has been able to decipher. Salander, who is under state legal guardianship due to diagnosed mental incompetency, is appointed a new guardian, lawyer Nils Bjurman (Yorick van Wageningen), after her previous guardian has a stroke.
Bjurman abuses his authority to extort sexual favors from Salander and then violently rapes her, not realizing she has a hidden video camera in her bag. At their next meeting, she stuns him with a Taser, rapes him with a dildo, and marks him as a rapist with a tattoo on his chest and stomach. She then blackmails him into writing her a glowing progress report and giving her full control of her money.
Director: David Fincher
Year of Release: 2011

Character to watch: Rooney Mara as Lisbeth Salander.
Journal your answers to the following questions after you watch the movie.
How does this particular character's journey compare with yours?
Did the character develop certain characteristics during the movie that you have or that you would like to have? If so, what are those characteristics?
What obstacles did this character face? What was his or her biggest challenge?
What would you have done differently if you had been in the same position as the character?
Is this character the type of person you would be friends with? Why or why not?