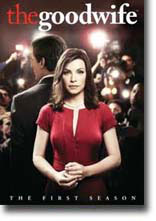 The Good Wife is a compelling drama about Alicia Florrick (Julianna Margulies), a strong, articulate woman whose life has been turned upside down by the actions of her husband Peter Florrick (Chris Noth), a state's attorney who's been disgraced by a sex scandal and imprisoned for abusing his position in office.
The series begins with a press conference in which Peter apologizes for his personal indiscretions and denies any professional wrongdoing, but the focus of this series is all on Alicia–how she endures the moment in front of the press, the personal impact of the experience just after the cameras are turned off, and how that instant in time will affect every aspect of her life from that moment on.
A middle-aged woman accustomed to charity events and luxury in the suburbs, Alicia is suddenly forced to abandon her old life, move to an apartment in the city, and reenter the workforce as a junior associate in a local law firm in order to support herself and her two teenage children.
Add in the extra baggage of the very public sex scandal, competition from a young and highly ambitious twentysomething lawyer (Matt Czuchry) at the firm, and a coworker (Archie Panjabi) whom her husband once fired, and things become really tricky for Alicia. The story is about much more than Alicia's reentry into the courtroom; it's about how everything in her life has changed and how every decision she makes impacts her future.
Excellent writing and the powerful performances of Margulies and her costars make this series absolutely captivating. The blend of personal drama, courtroom action, sexual indiscretion, family dynamics, and political scandal is perfectly balanced and, as in real life, everything is complexly interwoven.
The most compelling thing about the series is Margulies herself: she is completely believable as Alicia Florrick–everything she feels and thinks comes across as totally real to viewers, sometimes without even one word of dialogue, and viewers can't help but relate to everything she's going through and wonder what they might do in a similar situation.
Viewers struggle right along with Alicia as she oscillates between self-confidence and self-doubt, resolve and vulnerability, hatred for her husband's infidelity and an inexplicable resilient love for him, even in the face of her renewed attraction to her former law school classmate and now-boss Will (Josh Charles).
Viewers share in her determination to remain strong and somehow balance the demands of work and family. Panjabi is commanding in her breakout role as Kalinda, an extremely pragmatic investigator who regularly defies convention and will go to almost any length to get the information she needs, and every interaction between Alicia and Kalinda is simply electric. Christine Baranski is also stellar in her role as Diane Lockhart, a firm partner who sees Alicia both as someone to mentor and as a personal threat.

Character to watch: Julianna Margulies as Alicia Florrick.
Journal your answers to the following questions after you watch the series.
How does this particular character's journey compare with yours?
Did the character develop certain characteristics during the movie that you have or that you would like to have? If so, what are those characteristics?
What obstacles did this character face? What was his or her biggest challenge?
What would you have done differently if you had been in the same position as the character?
Is this character the type of person you would be friends with? Why or why not?