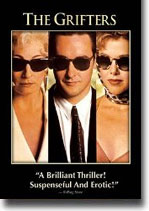 Annette Bening twists like a mink on a leash through Stephen Frears's adaptation of Jim Thompson's novel. This may be the perfect trope for the moral hysteria that coils around a mother, her son, and his girlfriend in this slender but highly pleasurable neo-noir. Small in effect and local in scope, the film is about small-fry, attractive, bloodless con artists who view the world as neatly split between ropers and suckers, grifters and squares.
"Grifter's got an irresistible urge to beat a guy that's wise," an old-timer tells Roy (John Cusack). And yet the three characters here–played by Angelica Huston, Cusack, and Bening–only beat the innocent: Lilly (Huston) gigs at the track for a mobster named Bobo, putting wads of cash on long-shot horses to even out the odds. Roy, her son, swindles citizens by dimes and degrees, flashing twenties at bars then paying for his beer with tens.
His girlfriend, Myra (Bening), is hustling herself, her salad days as a long-con roper behind her. Theirs is a world of gut punches and smart lines, and the adrenaline these cheats and chiselers live by is palpable onscreen. But a larger canvas?
Maybe it's there as a parallel universe. "What do you sell again?" Myra asks Roy, the matchbook salesman. "Self-confidence," he says, a wry allusion to the confidence game all three of them are playing. The movie boasts dazzling turns by Bening, Cusack, and especially Huston, whose mère fatale breaks new ground for noir.
Director:  Stephen Frears
Year of Release: 1991

Character to watch: Annette Bening as Myra.
Journal your answers to the following questions after you watch the movie.
How does this particular character's journey compare with yours?
Did the character develop certain characteristics during the movie that you have or that you would like to have? If so, what are those characteristics?
What obstacles did this character face? What was his or her biggest challenge?
What would you have done differently if you had been in the same position as the character?
Is this character the type of person you would be friends with? Why or why not?