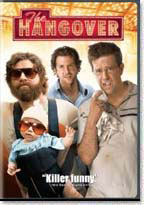 Celebrating his coming marriage to Tracy Garner (Sasha Barrese), Doug Billings (Justin Bartha) and his friends Phil Wenneck (Bradley Cooper), Stu Price (Ed Helms), and Tracy's brother Alan (Zach Galifianakis) travel to Las Vegas for a bachelor party, staying at Caesars Palace.
The next morning, Phil, Stu, and Alan awaken to find they have no memory of the previous night and Doug is nowhere to be found. Stu is missing a tooth, their hotel suite is in disarray, a tiger is in their bathroom, and a baby is in the closet.
They find Doug's mattress impaled on a statue outside of their hotel and when they ask for their Mercedes, the valet delivers a police cruiser.  Following clues to their steps, the trio travel to a hospital where they discover they were drugged with rohypnol, causing their memory loss, and that they came to the hospital from a chapel.
At the chapel they learn that Stu married a stripper, Jade (Heather Graham), despite having a long-term relationship with his mean-spirited girlfriend, Melissa (Rachael Harris). Outside the chapel, the trio are attacked by gangsters saying they are looking for someone.
They flee and visit Jade, discovering that she is the mother of the baby, before being arrested by the police. Having been told that the Mercedes has been impounded, the trio is released when they volunteer to be targets for a taser demonstration. While driving the Mercedes, they discover a naked man in the trunk who attacks them and flees.
Alan confesses that he drugged their drinks to ensure they had a good night, thinking the drug to be ecstasy. Returning to their villa, they find Mike Tyson, who orders the trio to return the tiger to his mansion immediately. Stu drugs the tiger with the remaining rohypnol and they drive towards Tyson's home in the Mercedes, but the tiger attacks them and damages the car's interior. After pushing the car the rest of the way to avoid the tiger, Tyson shows the trio footage of them stealing the tiger to help them locate Doug.
Director: Todd Phillips
Year of Release: 2009

Character to watch: Zach Galifianakis as Alan Garner.
Journal your answers to the following questions after you watch the movie.
How does this particular character's journey compare with yours?
Did the character develop certain characteristics during the movie that you have or that you would like to have? If so, what are those characteristics?
What obstacles did this character face? What was his or her biggest challenge?
What would you have done differently if you had been in the same position as the character?
Is this character the type of person you would be friends with? Why or why not?