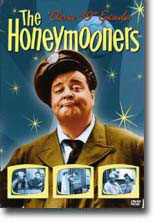 As The Honeymooners continues to get bumped from late-night TV schedules across the nation–by laughably unfunny shows such as Friends and Murphy Brown no less–legions of Honeymoonies will need to get their fix in other ways. This set–the Honeymoonie's Holy Grail–contains all 39 episodes from the legendary 1955-1956 season.There's no commentary from some "expert" who compares Ralph to gods from Greek mythology or memories from some assistant producer–it's just the meat, and that's enough to make any fan salivate. This was the only season that The Honeymooners had a life of its own apart from the Jackie Gleason Show.
Rather than sequence them in order, the producers have decided to group them by eight different themes including Ralph's jealous nature, his life at the Gotham Bus Company, his friendship with Norton, domestic troubles, and financial woes. Sometimes this approach is a bit forced, but it does illustrate why The Honeymooners is the ultimate situation comedy: You can show them out of order.
No matter what happens to the Bensonhurst foursome, Ralph will still work for the bus company, Norton in the sewer. They'll be struggling to get by, passing the time bowling, shooting pool, arguing with the wives, and dreaming of a better day. And it's in the mundanity of everyday life that The Honeymooners finds boundless humor. Even when the events were anything but mundane–bank robbers, counterfeiters, TV commercials, game shows, golf dates with The Boss–the real story and the best jokes were about the reality of their lives and the realization that, because of marriage and friendship, they didn't really have it so bad after all.
The chemistry between Jackie Gleason and Art Carney still amazes after all these years. Audrey Meadows's Alice is the perfect foil for Ralph, stern but sympathetic. And Joyce Randolph's Trixie? Well, let's just call her "earnest." Still, for all of Norton's frenetic energy and Alice's wisdom, the show belongs to Ralph Kramden. Somehow, Gleason took a chauvinistic, paranoid, insensitive, scheming, bitter, loudmouth, underachieving bus driver and made him a hero to millions.

Character to watch: Jackie Gleason as Ralph Kramden.
Journal your answers to the following questions after you watch the series.
How does this particular character's journey compare with yours?
Did the character develop certain characteristics during the movie that you have or that you would like to have? If so, what are those characteristics?
What obstacles did this character face? What was his or her biggest challenge?
What would you have done differently if you had been in the same position as the character?
Is this character the type of person you would be friends with? Why or why not?