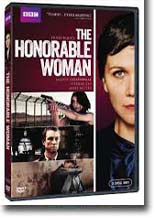 While Nessa Stein (Maggie Gyllenhaal) and her brother Ephra (Andrew Buchan) appear philanthropic on the surface, using their wealth to foster better relationships between the Israelis and the Palestinians – they are also involved in underhand schemes, none of which are overtly revealed in the opening episodes.
Instead director/writer Hugo Blick uses a montage technique comprised of short scenes which might appear meaningless in themselves, but which cumulatively build up a picture of the Stein family's way of life in the present as well as the past. It is the viewers' responsibility to put these pieces of information together and try and work out what is going on.
This task is often difficult, as Blick brings in characters who superficially seem to have nothing to do with the main plot-lines. It is only later on – in subsequent episodes – that we discover what their role in the overall story actually is. This technique draws attention to the complexities of the Israeli-Palestinian conflict, where it is often very difficult to identify who one's allies or one's enemies actually are. People have to be taken at face value, until one gets to know them.
In the first few episodes of this thriller, the action proceeds slowly; however this is a deliberate technique that not only builds up tension – nothing is quite what it seems – but also indicates the complexity of the issues tackled in this series.
The Honorable Woman takes a bit of time to get going, but by the fourth episode it has gained in momentum, not only explaining the Stein family's shady past, but showing how the British security forces, led by Julia Walsh (Janet McTeer) and Hugo Hayden-Hoyle (Stephen Rea) have to get their hands morally dirty in order to make sense of what they are doing.

Character to watch: Maggie Gyllenhaal as Nessa Stein.
Journal your answers to the following questions after you watch the series.
How does this particular character's journey compare with yours?
Did the character develop certain characteristics during the movie that you have or that you would like to have? If so, what are those characteristics?
What obstacles did this character face? What was his or her biggest challenge?
What would you have done differently if you had been in the same position as the character?
Is this character the type of person you would be friends with? Why or why not?