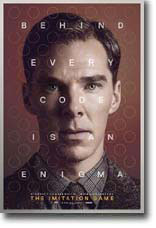 The film opens in 1941 as England and Germany have declared war against each other. The Brits are getting their butts beat as the rest of Europe has already fallen to Hitler and the Nazis. If England can somehow decode the infamous German Enigma machine, perhaps the war can be turned.
Alan Turing (Cumberbatch), a brilliant mathematician, is assigned to help with the decoding process. Socially inept, he has a hard time working with his small cadre of code breakers and they are having no success. Kiera Knightly plays, brilliant in her own right, Joan Clarke, who helps Turing, outside the all-boys group.
While great friends and accomplished collaborators, they don't become romantic for reasons that become obvious during the film. Turing's focus is on the building and development of the machine that will provide a mechanical process of encryption that is faster than any group of humans can process given the time constraints. The Nazis change the encoding every day.
Backed by a cast that includes Matthew Goode, Rory Kinnear, Mark Strong, Charles Dance and others, the film moves quickly and is authentic in set design, down to the smallest detail. A relatively unknown Norwegian director, Morten Tyldum has managed to guide this excellent cast through a story that would seem tedious at best, yet does it with suspense and conviction.
As many films do these days, a backstory finds its way into the film in a series of flashbacks. This includes Turing's days at school and close friendship with a boy named Christopher (Jack Bannon) who eventually becomes the name of the Turing computer. A brilliant film that brings to light an unimaginable injustice to one of the great heroes of World War II.
Director: Morten Tyldum
Year of Release: 2015

Character to watch: Benedict Cumberbatch as Alan Turing.
Journal your answers to the following questions after you watch the movie.
How does this particular character's journey compare with yours?
Did the character develop certain characteristics during the movie that you have or that you would like to have? If so, what are those characteristics?
What obstacles did this character face? What was his or her biggest challenge?
What would you have done differently if you had been in the same position as the character?
Is this character the type of person you would be friends with? Why or why not?