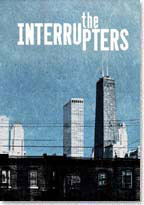 The Interrupters tells the moving and surprising stories of three Violence Interrupters who try to protect their Chicago communities from the violence they once employed. From acclaimed director Steve James and bestselling author Alex Kotlowitz, this film is an unusually intimate journey into the stubborn persistence of violence in our cities. Shot over the course of a year out of Kartemquin Films, The Interrupters captures a period in Chicago when it became a national symbol for the violence in our cities.
During that period, the city was besieged by high-profile incidents, most notably the brutal beating of Derrion Albert, a Chicago High School student, whose death was caught on videotape. The film's main subjects work for an innovative organization, CeaseFire, which believes that the spread of violence mimics the spread of infectious diseases, and so the treatment should be similar: go after the most infected, and stop the infection at its source.
The good news: violent crime in our cities has been in decline for more than a decade. The bad news: that's cold comfort to those who live in areas where violence remains prevalent. The Interrupters is the story of a group of brave men and women who are doing something about it; as "violence interrupters," the members of CeaseFire attempt to defuse potentially deadly conflicts as they happen.
Director Steve James, whose classic Hoop Dreams captured the difficulty of teenage hoopsters with startling intimacy and power, has delivered yet another haunting portrait of life in urban America, and even though there were many great documentaries in 2011, I think The Interupters was one 2011's best documentaries.
Director: Steve James
Year of Release: 2011

Character to watch: Eddie Bocanegra as Himself.
Journal your answers to the following questions after you watch the movie.
How does this particular character's journey compare with yours?
Did the character develop certain characteristics during the movie that you have or that you would like to have? If so, what are those characteristics?
What obstacles did this character face? What was his or her biggest challenge?
What would you have done differently if you had been in the same position as the character?
Is this character the type of person you would be friends with? Why or why not?