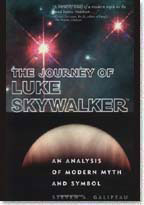 So many years after Star Wars: A New Hope burst upon the world in 1977, why is The Force still with us? Why do the Star Wars movies continue to haunt the imaginations of young and old alike? In the Journey of Luke Skywalker, Steven Galipeau applied depth psychology to the Star Wars epic, uncovering a wealth of symbolic meaning embedded in this seemingly simple tale of adventure.
Luke Skywalker's journey, from his early life on a desert farm to his act of redemption that helps transform an entire galactic civilization, captures many of the struggles of the modern psyche, and exercises a powerful sway akin to that of religious myth.
Since the release of the first installation in 1977, the "Star Wars" saga has become an all-consuming passion bordering on a religion for millions worldwide. And it's not just the fun plotting, likable characters, cool props, and dazzling visual effects that keep fans begging for more. Behind the space dogfights and light-saber duels is a mythology that touches a chord in the human psyche. Galipeau, the executive director of the Coldwater Counseling Center in Studio City, CA, here offers a Jungian analysis of the four "Star Wars" flicks in terms of both characters and story.
The book is essentially a blow-by-blow description of each film with liberal doses of dialog, followed by Galipeau's interpretation of what the characters' words and actions might mean on a deeper level. Discussing each episode on a separate basis allows readers to comprehend the psychological growth of each character, especially Luke, who is transformed from an inexperienced adolescent to a spiritually and mentally mature adult by the series' finale.
Author:Steven A. Galipeau
Year of Release: 2001