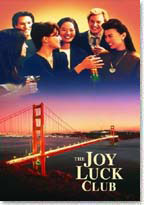 The Joy Luck Club is a ground-breaking film with universal themes that anyone can relate to regardless of age, gender or nationality. Truly epic in its scope and haunting vision, the movie is also deeply heartfelt and familial, enhancing its ability to speak to the audience in myriad, boundless ways.
This is an intimate portrait of two generations of Asian women beginning with the mothers who risked everything to create a better life for their daughters in the United States.
June (Ming-Na Wen) is greiving for her recently deceased mother with the 3 aunts who maintain her place at the mah-jon table. Their gatherings continue, with June's presence, and in the process form the backdrop from which these women's personal stories and life-journeys are shared.
Each aunt and their now-adult Americanized daughters explain their often-harrowing attempt to escape Communist China and their difficult transition to an American way of life in the U.S. Tears flow in both generations, not only for what has been lost, but also for what has been found here – a society with different values that challenges these women in unexpected but nearly universal ways.
Director: Wayne Wang
Year of Release: 1993

Character to watch: Ming-Na Wen as June Woo.
Journal your answers to the following questions after you watch the movie.
How does this particular character's journey compare with yours?
Did the character develop certain characteristics during the movie that you have or that you would like to have? If so, what are those characteristics?
What obstacles did this character face? What was his or her biggest challenge?
What would you have done differently if you had been in the same position as the character?
Is this character the type of person you would be friends with? Why or why not?