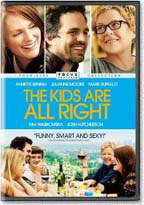 Nic (Annette Bening) and Jules (Julianne Moore) are a married lesbian couple living in California. They have each given birth to a child using the same sperm donor. Nic is an obstetrician, and Jules is a housewife who is starting up a landscape design business. The younger child Laser (Josh Hutcherson) wants to find his sperm donor but has to be 18 to do so.
He begs his 18-year-old sister Joni (Mia Wasikowska) to contact the sperm bank and determines that Paul (Mark Ruffalo) is the donor. Although Paul is enthusiastic about being in his newfound children's lives, the mothers do not feel the same. Joni swears Laser to secrecy as she does not want to upset their mothers. However, Jules and Nic find out and invite Paul over to dinner. When Jules reveals she has a landscape business, Paul asks her to landscape his back garden. Jules agrees, although Nic does not like the idea.
The Kids Are All Right is a thoroughly entertaining slice-of-life domestic drama about two kids who look up their sperm-donor father, causing cataclysmic changes in the family dynamic. Not a unique premise save that the parents of the kids happen to be lesbians.
The entire cause célèbre for this film is to show straight America how "normal" gay families are and that they shouldn't be afraid of "gay marriage" or "gay parenting," thus it doesn't delve too deep or wander too far off topic. Political film making is a tricky business. You'll remember the Tom Hanks drama Philadelphia was maligned by the LGBT activist fringe for all the issues it didn't address; to which my answer has always been: it's a two hour film, if you add too many spicy issues you're left with an unpalatable polemic.
Director: Lisa Cholodenko
Year of Release: 2010

Character to watch: Mark Ruffalo as Paul.
Journal your answers to the following questions after you watch the movie.
How does this particular character's journey compare with yours?
Did the character develop certain characteristics during the movie that you have or that you would like to have? If so, what are those characteristics?
What obstacles did this character face? What was his or her biggest challenge?
What would you have done differently if you had been in the same position as the character?
Is this character the type of person you would be friends with? Why or why not?