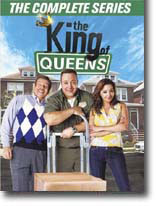 Like its characters, The King of Queens is a unpretentious but utterly dependable sitcom. Kevin James and Leah Remini, as blue-collar couple Doug and Carrie Heffernan, have the kind of chemistry that every sitcom craves (but far too few have). Layered on top of this solid foundation are the bizarre flights of Jerry Stiller as Arthur, Carrie's loud, paranoid, and combustible father.
There are hilarious plotlines and recurring themes, such as Doug's ego inflating when a waitress flirts with him; Doug and Carrie squirming when their best friends ask them to be godparents; Doug discovering that Carrie compulsively cheats at games; and a flashback to when they first met. It's the attention to emotional detail that makes the show fly; James and Remini take the most mundane material–say, an argument over where to go for a vacation or how their marriage lacks romance–and turn the many ways in which couples cope into a pugnacious duet. Their sparring not only is funny, but consistently rings true as irrational but oh-so-common human behavior.
The show pulls you in all the more because the Heffernans make up just as often as they fight, demonstrating one of the most functional marriages on television. It's meat-and-potatoes comedy, but sometimes nothing else will hit the spot.

Character to watch: Kevin James as Doug Heffernan.
Journal your answers to the following questions after you watch the series.
How does this particular character's journey compare with yours?
Did the character develop certain characteristics during the movie that you have or that you would like to have? If so, what are those characteristics?
What obstacles did this character face? What was his or her biggest challenge?
What would you have done differently if you had been in the same position as the character?
Is this character the type of person you would be friends with? Why or why not?