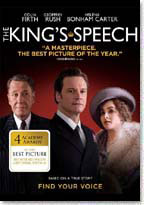 The King's Speech is a 2010 British historical drama film directed by Tom Hooper and written by David Seidler. Colin Firth plays King George VI who, to cope with a stammer, sees Lionel Logue, an Australian speech therapist played by Geoffrey Rush.
After the death of his father King George V (Michael Gambon) and the scandalous abdication of King Edward VIII (Guy Pearce), Bertie (Colin Firth) who has suffered from a debilitating speech impediment all his life, is suddenly crowned King George VI of England.
With his country on the brink of war and in desperate need of a leader, his wife, Elizabeth (Helena Bonham Carter), the future Queen Mother, arranges for her husband to see an eccentric speech therapist, Lionel Logue. Logue becomes the king's speech therapist. After a rough start, the two delve into an unorthodox course of treatment and eventually form an unbreakable bond.
With the support of Logue, his family, his government and Winston Churchill (Timothy Spall), the King will overcome his stammer and deliver a radio-address that inspires his people and unites them in battle. Based on the true story of King George VI, "The King's Speech" follows the Royal Monarch's quest to find his voice.
There always seems to come a time in every British actors career where they must play the role of a historical British monarch. Riding on the success of his career defining performance in "A Single Man" and sampling the glory of Best Actor nominations across the award circuits, Firth comes storming back with another film, determined, this time, to take the all the prizes with him too. But is "The King's Speech" worth its pre-Oscar hype?

Set across the years between the First and Second World War, "The King's Speech" concentrates on the rise of King George VI (Firth) and his personal woes, including his infamous stammer and disdain for public speaking. Obviously being royalty, having an ability to engage the public in moving and inspirational speeches tends to be a necessity of the job.
In attempting to overcome this disability, he's entrusted in the care of the eccentric and flamboyant speech therapist, Logue. Over the course of the film, the two men of distinctly different social classes come to blows but ultimately forge a friendship which will last a lifetime.
Firth's portrayal of George VI (or simply Bertie to his family and friends) was a fascinating insight into the king's troubled personal life. His tragic inability to speak, both in public and to his family, was also tender and, in a way, heart-warmingly humbling.
Director: Tom Hooper
Year of Release: 2011

Character to watch: Geoffrey Rush as Lionel Logue.
Journal your answers to the following questions after you watch the movie.
How does this particular character's journey compare with yours?
Did the character develop certain characteristics during the movie that you have or that you would like to have? If so, what are those characteristics?
What obstacles did this character face? What was his or her biggest challenge?
What would you have done differently if you had been in the same position as the character?
Is this character the type of person you would be friends with? Why or why not?