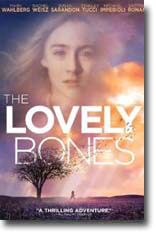 Director Peter Jackson takes a personal, risky leap in his direction of the film version of Alice Sebold's bestselling novel The Lovely Bones. His leap pays off, in emotional depth and riveting visuals that transport the viewer to other worlds; even ones the viewer may not want to visit.
The Lovely Bones is lofted by its star-making performance by the young Saoirse Ronan, who plays Susie Salmon, the 14-year-old girl who is murdered early in the film, and who narrates the action from her "in-between place" after dying but before going to heaven.
Ronan makes Susie as earthy and awkward as any young teen, yet her presence, and her gorgeous pale eyes, remind viewers that she's otherworldly as well. The drama involves whether Susie's family will recover after her ghastly murder, and what happens to her killer and the futile-seeming search for justice and closure.
The entire cast is stellar, including Mark Wahlberg and Rachel Weisz as Susie's nearly destroyed parents; Rose McIver, who plays Susie's younger sister, whom Susie watches grow up to be the young woman that Susie will never get to be; and Susan Sarandon, the boozy, wisecracking grandmother who may or may not be able to help keep the family from splintering into a million pieces.
The other true standout is Stanley Tucci, almost unrecognizable as the quiet, creepy neighbor who kills Susie, obsessing over every detail and perhaps having left a whole trail of gruesome murders of young girls in his shambling wake. This movie is rated PG-13, but I would never recommend it for younger viewers, a perfect example of why I don't agree with this rating system. Jackson's deft direction keeps the mourning humans moving along believably, numbly, and gives breathtaking life to the afterlife, in scenes of fantasy and dread.
Director:  Peter Jackson
Year of Release: 2009

Character to watch: Saoirse Ronan as Susie Salmon.
Journal your answers to the following questions after you watch the movie.
How does this particular character's journey compare with yours?
Did the character develop certain characteristics during the movie that you have or that you would like to have? If so, what are those characteristics?
What obstacles did this character face? What was his or her biggest challenge?
What would you have done differently if you had been in the same position as the character?
Is this character the type of person you would be friends with? Why or why not?