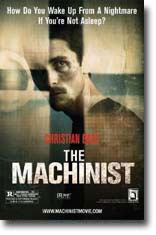 As a bleak and chilling mood piece, The Machinist gets under your skin and stays there. Christian Bale threw himself into the title role with such devotion that he shed an alarming 63 pounds to play Trevor Reznik, a factory worker who supposedly hasn't slept in a year.
He's haunted by a mysterious occurrence that turned him into a paranoid husk, sleepwalking a fine line between harsh reality and nightmare fantasy, a state of mind that leaves him looking disturbingly gaunt and skeletal in appearance.
It's no exaggeration to say that Bale resembles a Holocaust survivor from vintage Nazi-camp liberation newsreels. Director Brad Anderson orchestrates a grimy, nocturnal world of washed-out blues and grays, as Trevor struggles to assemble the clues of his psychological conundrum.
With a friendly hooker (Jennifer Jason Leigh) and airport waitress (Aitana Sánchez-Gijón) as his only stable links to sanity, Trevor reaches critical mass and seems ready to implode just as The Machinist reveals its secrets. For those who don't mind a trip to hell with a theremin-laced soundtrack, The Machinist seems primed for long-term status as a cult thriller on the edge.
What's really intriguing about the movie is that just like Trevor, we do not know exactly what is real or what is made up. There are times when we're doubtful of what we're seeing, and then we get roped in and second-guess ourselves.
The movie is a non-stop dread fest that just speaks of loneliness and paranoia, and that's why it works. It looks and feels exactly like it should. From the very first few minutes, it's easy to realize that this is going to be one unsettling and dark experience. It is one that you may want to re-watch after you see it all.
This isn't a movie for those who get easily disturbed or freaked out. It's a pretty uneasy movie to watch. Let's just say you won't feel extremely cheerful after you get done watching this. You may want to put on something funny after you're done, otherwise you're going to have this movie stuck in your head while you try to sleep.
Director: Brad Anderson
Year of Release: 2004

Character to watch: Christian Bale as Trevor Reznik.
Journal your answers to the following questions after you watch the movie.
How does this particular character's journey compare with yours?
Did the character develop certain characteristics during the movie that you have or that you would like to have? If so, what are those characteristics?
What obstacles did this character face? What was his or her biggest challenge?
What would you have done differently if you had been in the same position as the character?
Is this character the type of person you would be friends with? Why or why not?