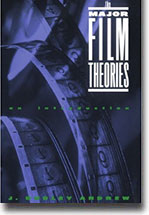 J. Dudley Andrew covers the ideas of 10 major theoreticians of film in this readable introduction (Hugo Munsterberg, Rudolf Arnheim, Sergei Eisenstein, Bela Balazs, Siegfried Kracauer, Andre Bazin, Jean Mitry, Christian Metz, Amedee Ayfre, Henri Agel).
The Major Film Theories is great for readers who are interested in the development of film theory and want a manageable book that follows it through in a structured way, and discusses each person's views in the context of previous thinkers'.
Each chapter considers four topics of each theorist: The basic material of film, the process that gives the material significance, the forms, and the purpose or value of film. It doesn't cover much beyond the 1970s, but as an introduction, it sufficiently covers giant figures like Eisenstein, Kracauer, and Bazin.
Andrew has done an excellent job explaining the major film theories that have helped legitimize film as an art form. Not only does he explain the different ideological camps of the early twentieth century, but most importantly he clearly connects them to contemporary structural french theorists. it is an excellent introduction for the film theorist novice. It is truly an essential book that should be read by anyone who is interested in thinking, period.
Author:  J. Dudley Andrew