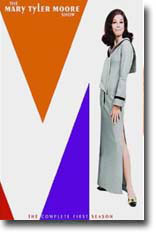 She finally made it after all. Created by James L. Brooks and Allan Burns, The Mary Tyler Moore Show is the very model of a tailor-made star vehicle. It transformed Moore from Dick Van Dyke's wacky housewife to empowered thirtysomething single woman determined to make it on her own.
Moore was the anchor of a peerless ensemble who brought to life characters so indelible that three of them, Ed Asner's Lou Grant, Valerie Harper's Rhoda, and Cloris Leachman's Phyllis, would each get their own series.
The 24 episodes that comprise the Emmy-winning first season (1970) hilariously set the stage for what would become one of television's most beloved sitcoms, ranked by TV Guide in 2002 as the 11th greatest of all time (it should have been higher!).
The classic pilot episode is a master class of character-based comedy writing, as Mary meets her future "family" at the WJM newsroom, as well as upstairs neighbor Rhoda, with whom she would form perhaps TV's greatest female buddy team. Among the most memorable episodes are "Support Your Local Mother," which won an Emmy for Outstanding Writing and introduced Nancy Walker as Rhoda's maddening mother, Ida.
Another Emmy-winner is "Toulouse-Lautrec Is One of My Favorite Artists," in which Mary dates a height-challenged author. Lending able support in this inaugural season is a stellar guest star roster of comic actors who, like Harper and Asner, apprenticed with Chicago's legendary improvisational Second City troupe: Shelley Berman ("Divorce Isn't Everything"); Bob Dishy ("Second Story Story"); Richard Schaal ("Today I Am a Ma'am," "The Snow Must Go On," in which he plays the ill-fated Chuckles the Clown," and "Howard's Girl"); and Paul Sand ("1040 or Fight"). At this point, the characters are pretty much one-note. Mary is cute and perky, Lou Grant hard-boiled, Rhoda brash, Phyllis flighty, and Ted Knight's vainglorious anchorman Ted Baxter idiotic. But what beautiful music they all would make in seasons to come.

Character to watch: Mary Tyler Moore as Mary Richards.
Journal your answers to the following questions after you watch the series.
How does this particular character's journey compare with yours?
Did the character develop certain characteristics during the movie that you have or that you would like to have? If so, what are those characteristics?
What obstacles did this character face? What was his or her biggest challenge?
What would you have done differently if you had been in the same position as the character?
Is this character the type of person you would be friends with? Why or why not?