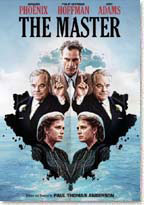 This movie loosely depicts the early career of L. Ron Hubbard, the founder of Scientology. The film tells the story of Freddie Quell (Joaquin Phoenix), a damaged soul who seeks healing from a charismatic fraud (Phillip Seymour Hoffman) and finds what he is looking for.
Freddie is a sex-obsessed alcoholic World War II veteran struggling to adjust to a post-war society. He becomes a portrait photographer at a local department store but is soon fired for getting into a drunken fight with a customer for no apparent reason. Freddie then finds work on a cabbage farm, but his homemade moonshine poisons one of the elderly migrant workers and he is chased off. He then has a chance meeting with Quell, and his life is forever changed.
The Master is a purposefully non-traditional film that most people won't like. I happened to be one of those who loved it. If you go to this film expecting a traditional, three-act narrative structure, with likeable characters and/or characters who will eventually be redeemed, then you have come to the wrong movie. This is not a Hollywood, feel-good movie about the triumph of the human spirit. Instead, The Master is a groundbreaking film that you have to watch with an open mind.
Ultimately, The Master is an incisive exploration of the eternal struggle between the spirit and the flesh. As the cult leader, Phillip Seymour Hoffman represents the realm of logic and the mind, of science and rationality. He approaches life analytically and always needs to be in control of his surroundings, and the people in his life. Joaquin Phoenix, on the other hand, represents the unchecked flow of primal, animal nature.
This the the central conflict in The Master, a rival between someone who constantly needs to be in control of his life, and someone else who resists all methods of control and repression. The reason why this film alienates so many people is because of its disquieting portrayal of human nature–in the world presented in The Master, no matter where we run to, we're always presented with the startling realization that in this life, there is no escape or redemption, there is only the constant struggle for power and domination.
Director: Paul Thomas Anderson
Year of Release: 2012

Character to watch: Philip Seymour Hoffman as the Master.
Journal your answers to the following questions after you watch the movie.
How does this particular character's journey compare with yours?
Did the character develop certain characteristics during the movie that you have or that you would like to have? If so, what are those characteristics?
What obstacles did this character face? What was his or her biggest challenge?
What would you have done differently if you had been in the same position as the character?
Is this character the type of person you would be friends with? Why or why not?